In November of 2012, I purchased a Babboe City Cargo Bike from Curbside Cycle, at their incredible "Black Saturday" price. We (my family and I) were now 7 months into our car-free lifestyle, and decided to get ourselves an early Christmas present. This post is a recount of picking up the bicycle, taking it home, and thoughts on things I observed along the way.
Curbside Cycle
There are many quality bike shops in Toronto: MEC and Urbane Cyclist to name a few. These shops have a variety of bikes to choose from to suit your needs. Curbside however, seems to focus specifically on European imported items, made from solid materials, and are easy on the eye. I think that if you plan on picking up quality gear that you will ride with year-round and don't want too much hassle with maintenance, then Curbside is the place to go.
There were a few things I had to accept before paying for the bike, and ultimately come to terms with after paying for it.
The Babboe City is big.
The Babboe City is heavy.
Because of the first two points, the bike would not fit on a bus, or a train.
See point 1.
While some in their right mind might have decided to rent a truck, load up the bike, and take it home, I am clearly not one of those people. I decided that I had 3 hours or so to kill, and rode the bike home to Brampton, from Curbside which is roughly near Bloor and Spadina in Toronto.

The first thing I noticed is that riding a cargo bike is a lot like driving a truck. It takes a while to accelerate, it takes a while to slow down, and you don't corner very well. Once you get used to it though, it's just fine. The next thing I noticed is that riding a large cargo bike in midtown traffic is not that bad. It helps to follow the basic rules of course: Signal, leave space, make yourself visible, etc. Of course, it's hard to stay hidden riding a bicycle of this size! But, in the entire trip, midtown felt the safest. More on that later.
The First Leg: Getting To Dupont

I used the bicycle navigation feature on my Android phone to help me stay on track. But with this decision came to realizations as I approached Hallam St. 1: Having a phone tucked safely in my pocket makes the GPS lock, shall we say, "fuzzy". 2.  My phone would suddenly "realize" where I was, and it was then I learned the ability to respond suddenly on a cargo bike is somewhat limited. As is the ability to turn around without a 3-point turn. It's might be better to take this bike on routes you're comfortable with.
Dupont To Dundas
The next thing I learned is that people seem to display a certain amount of forgiveness when you're riding a cargo bike on the street. There seems to be an implicit understanding that it's not the kind of vehicle you would want to see whipping around on the sidewalks at 25+ KM/h. I had no problems with sharing the outer lane between Dufferin and Lansdowne.
Then, I noticed something wonderful: Dupont's got bike lanes! This was my first time riding them. I'm thankful in a way that this was not a busy night, because the width of the cargo bike pretty much filled up the width of the lane. I took the Dupont bike lanes west to where they end at the Dundas junction. Once on Dundas, I was back to sharing the lane. Again, I experienced no difficulties.
Dundas To Scarlett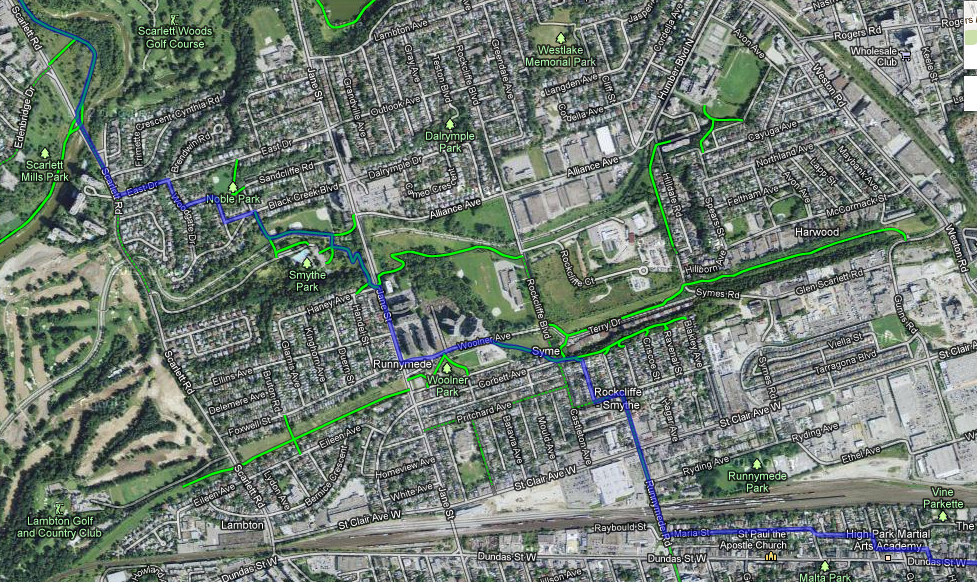 Wow. It was a good thing that I had a quick crash course on maneuvering the cargo bike, because this stretch required some serious attention. By now it was starting to get visibly foggy out, especially as I got to Jane Street. The road and path went through a series of ascents and descents, which had some very interesting fog formations to ride through. I had a secondary CatEye headlight connected to point ahead, while the on-board headlight of the cargo bike was pointed down on the ground to illuminate any obstacles I might not otherwise see.I'm glad I did that, because what I didn't know was how poorly lit the paths would be from here on.
Scarlett To Eglinton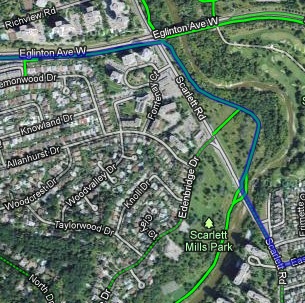 Scarlett was a quick and pleasant ride. It took me straight to Eglinton, where I found another pleasant surprise: A separated lane!
Eglinton To Matheson

There are 2 things to note about this stretch of my trip:
Separated lanes are awesome.
While awesome, I noticed a marked change in driver's temperament along this stretch at intersections. Much more aggressive, and very little regard for right of way. I had to stop mid-intersection twice to not hit a car that didn't slow down to make a right turn after I had started to cross.
At around the 427, the separated lane terminates and I had to rejoin traffic in a shared outer lane. Whereas downtown traffic wasn't a problem, this area was a different story. There is a serious lack of regard for cyclists sharing the lane here, with no less than 4 vehicles overtaking me without changing lanes properly, needlessly coming very close to me. Interestingly, this attitude reverted back to some semblance of sensibility once I got to Matheson.
Matheson To Tomken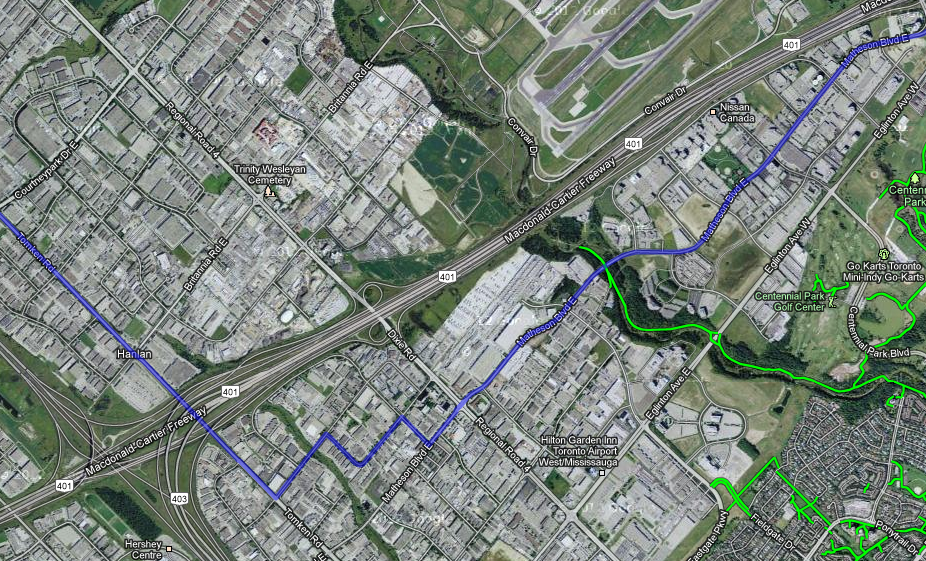 I was starting to feel a little thirsty. Besides that, this section of the trip, and the sections to follow, were largely uneventful, which was fine with me. I'll breeze through the rest quickly.
Tomken To Courtneypark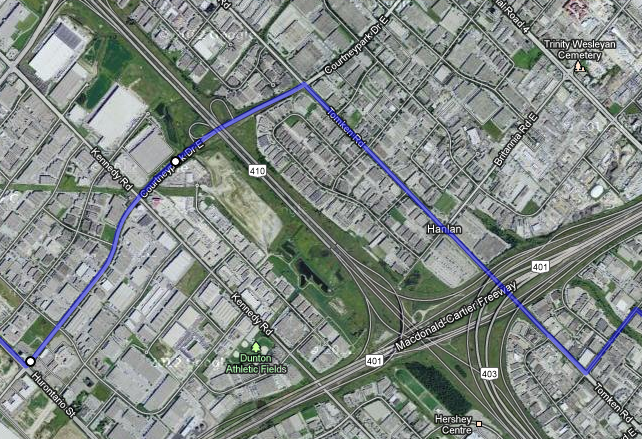 I stopped at Courtneypark and Kennedy at a Tim Hortons for a water and coffee. I went through the drive-through and parked the bike in a parking spot. It was fun!
Courtneypark To Hurontario, Then Home
In all, the trip home took about 3 hours. This included a 30 minute stop at Tim Hortons, and about a 30 minute run or so at the Superstore at Hurontario and Steeles.
That pretty much wraps up this trip. If you have any questions about the cargo bike, what it's like to ride it, etc. Drop me a line!